Phenotypic Data¶
The phenotypic module facilitates the collection of structured clinical data using standard ontologies such as the Human Phenotype Ontology (HPO_), the Orphanet Rare Disease Ontology (ORDO_) and Online Mendelian Inheritance in Man (OMIM_). Below we explain how to submit a new index case, and how to add new family members to the pedigree chart. If you have any questions, please contact our helpedesk via help@rd-connect.com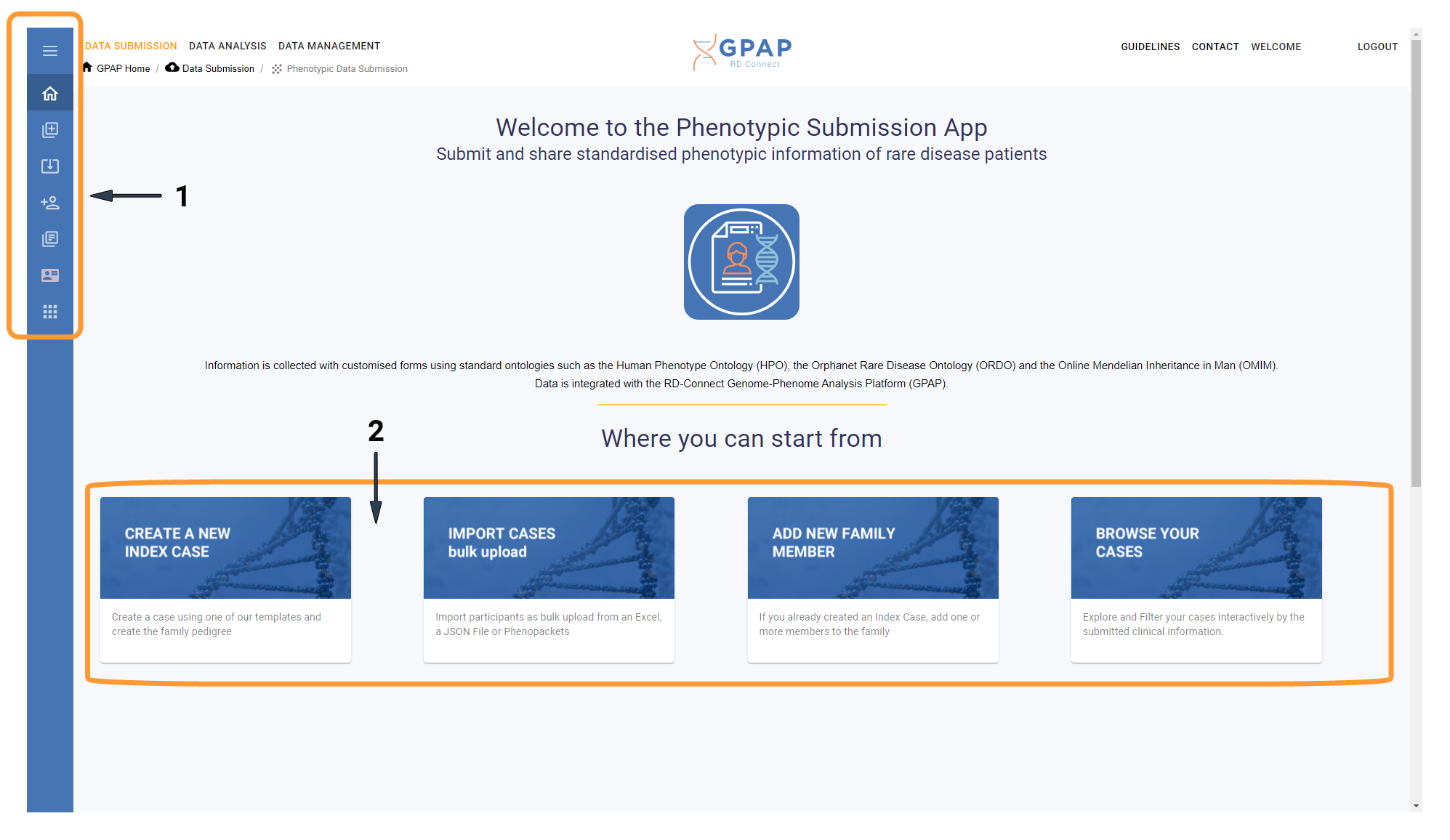 Left side-bar (1) - Side-bar fixed in all phenotypic submission steps - provides direct access to different phenotype submission steps.
Bottom menus (2) - Menus containing access to different ways to introduce participants, and to browse your submitted cases.
Submission of phenotypic data¶
There are different ways to enter phenotypic information in the system:
Manual form submission (case by case approach recommended when phenotypic data is not structured using HPO/OMIM/ORDO)

Bulk import using an excel template (recommended when the data is already HPO/OMIM/ORDO encoded)

Bulk import via transfer from a PhenoTips instance
Management of phenotypic data¶
Browse GPAP PhenoStore Cases¶
In the "Phenotypic Data Submission Site" enter the "Browse your cases" section in the bottom menu,

This section shows a summary of all your submitted data and data shared with you,

At the top you will find statistics of your submitted/shared participants.
At the bottom you have a table of your participants. You can directly access their records by clicking on their ID codes, and export all your data in .tsv format by using the "Export to TSV" button.

Export GPAP Phenostore Cases¶
From the "browse cases section", A list of cases can be exported by clicking on the corresponding button. A .tsv file will be downloaded according to your browser settings. This file includes the list of participants currently displayed in the participant table. The fields included are the following:
GPAP Local ID

Family ID

Index Case (yes or no)

Affected Status (Affected or Unaffected)

Solved Status (Solved or Unsolved)

Sex (M, F or U)

Consanguinity (Yes or No)

ORDO

OMIM
From the participants form, individual phenotypic information can be exported in Phenopacket and pdf formats.